Turning Obstacles Into Breakthroughs
"Are your estate sales completely over? Yours are the best!"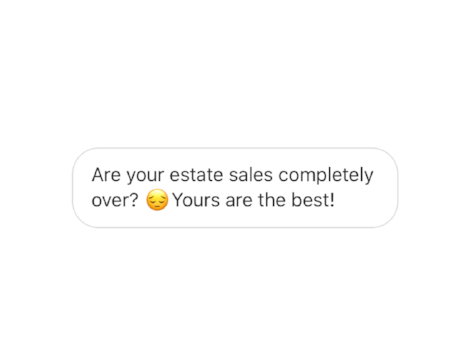 I receive this message (or something similar) every week.
The good news is they are not!
The truth is I was flailing toward my goal of being the best estate liquidator in the south rather than flying toward it.
The goal has always been deeply rooted in helping families navigate the transition. A downsize, a move, or a death, it is all a transition and one that is unfamiliar and at times uncomfortable.
And I wanted to be there to hold their hand. To walk the path with them. Even if for just a short period.
I've heard stories of families being taken advantage of. I've heard feedback from families that they were disappointed in the process. I've heard from customers that shopping at sales are no fun when the company treats them like an annoying knee pain.
Being the best meant taking care of our people - on both sides of the coin. The family and our loyal customers.
But then I hit some obstacles. Three years into the business and I was losing myself. I would work until 8 o'clock at night. I would skip meals. I stopped exercising. I stopped doing the things I loved. I was all consumed and simultaneously lost.
The path to being the best liquidator seemed clear. Yet it was drenched in comparison and doubt.
So I put it all down thinking I had the goal all wrong. Because it shouldn't be this hard if it is meant to be, right?
Then I realized, its not the goal or the intention that I needed to change. But rather the plan on how to get there.
I had to disconnect from the plan (which is hard for an OCD, perfectionist, over-achiever such as myself). I realized it is more important for me to hit the goal than to achieve it in the way I originally mapped out for myself. I had a picture of how it was supposed to look. But the plan was creating more problems than it was solving and it (I) had become inflexible.
Plans are our best guess given a certain amount of information about what it will take to achieve our goal. However, real life rarely follows our plan to a "T" and clinging to them holds us back.
So let your obstacles lead to breakthroughs.
As I peeled back the layers, I realized what was there all along.
The desire to help women navigate life's speed bumps by clearing space in their home so they could take up all the space in their life. I hold the trash bags open while giving them permission to dive deep and get clear on what they want to see and experience in their home and their life.
Because our home says a lot about each of us. And I'm there to listen.
I've launched a six month program where I organize with clients twice a month which I call "Goldilock's Porridge". It is not too fast, not too slow, but just right.